Prep Year Bieberstein
in cooperation with the Lietz Internat Schloss Bieberstein
Our long-term boarding school partner, the Lietz Internat Schloss Bieberstein, has an apparent particularity: It is a mere upper-level boarding school starting with year 10. Applicants need to have completed at least year 9 in their home country. They also need to have high academic skills and a good command of the German language before they start at Schloss Bieberstein. Besides a regular application with our general boarding school program, we offer a second pathway to Schloss Bieberstein with the "Secondary Education Prep Year":
The unique feature of the Prep Year program is periodic rotation between German classes and integration into regular classes in select subject areas. Students alternate their studies between the Humboldt-Institut in Bad Schussenried and the Bieberstein boarding school. The focus at the Humboldt-Institut in Bad Schussenried is on German as a foreign language, whereas students participate in classes such as English, mathematics, sciences, sports and arts at Schloss Bieberstein. After successfully completing the Prep Year, students can attend upper-level classes at Schloss Bieberstein and continue their school education until the "Abitur".
Language preparation in Bad Schussenried
At Bad Schussenried, the Humboldt-Institut offers everything students need to feel at home and become accustomed to life in Germany. In addition to learning the German language within a short period of time through intensive studies in very small classes, students also receive the support they need outside of the classroom to become acquainted with the life in a boarding school community.
Preparing for upper-level coursework at Bieberstein
Besides continuing to deepen their understanding of German, students will focus on applying their new knowledge to regular coursework (English, mathematics, sciences, sports, arts, etc.) at Schloss Bieberstein. Doing so will prepare them specifically for the demands of the upper-level secondary school curriculum as well as everyday boarding school life at school.
Prerequisites
Applicants for the Prep Year should be between 15 and 18 years of age and have good reports from their home countries. They need to have successfully completed at least year 9 and demonstrate English skills which are adequate for upper-level secondary education. As the intensive German preparation is an essential part of the Prep Year, no prior knowledge of German is required.
Program schedule
The program begins with a German course at Bad Schussenried, after which students alternate between Bieberstein and Bad Schussenried at intervals lasting multiple weeks at a time. Transportation between the two schools is included. The prep year ends in July, and by that time students will be expected to have successfully completed B2.2 level language requirements.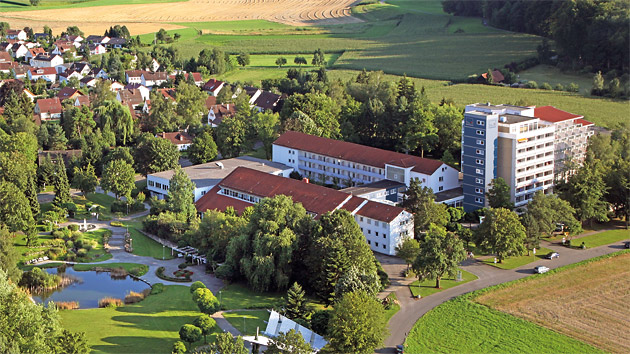 Humboldt-Institut Bad Schussenried
Residential school for German as a foreign language (A1-C2) (

Baden-Wuerttemberg

)

The Humboldt-Institut Bad Schussenried prepares international students for their studies at a German boarding school. The focus is on the following areas: reading and listening comprehension, writing skills, oral expression and grammar. Students are taught in intensive courses with 30 lessons per week (teenagers) or 25 lessons per week (children).

A student with no previous German knowledge can complete level B2 in approx. 6-8 months due to our "total immersion" concept, continuous progress control and monitoring as well as active daily use of the German language also outside the classroom.
Accommodation in boarding home
Twin rooms, all rooms with shower/WC and balcony
Special features
Daily free time activity program (sports, creative work, social activities)
Additional supporting program for children (ages 10-13)
Workshops
Cultural program (including weekly full-day and half-day excursions)
The boarding home is open 365 days per year accommodating students from all over the world.
№ of students
№ of boarders
100%
Class size
Group size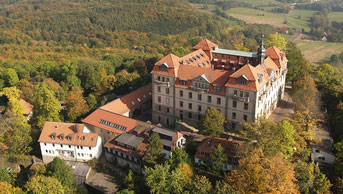 Lietz Internat Schloss Bieberstein
Co-educational private boarding school (

Hesse

)

Our educational concept is based on the fundamental idea of the founder of the school, Hermann Lietz, who propagated learning with the head, the heart and the hands. This holistic learning approach does not only focus on lessons and subjects, but tries to foster students' personality.

The school team is very enthusiastic about aligning with every student's interests, thereby consolidating strengths and overcoming weaknesses and awakening interest in new things. Teachers put great value on enabling students to discover their various talents, whether in theater, music or art and elocution, in competitions and natural history excursions. All disciplines that are offered over and above study lectures have an important impact and all students' interests are supported.
Educational form
Grammar school (Years 10-13)
Grammar school (Years 10-12), entry only with admission exam
Branch of study
Fixed offer of subjects leading to a general Abitur as only upper level classes (10-12 / 10-13) are taught. Focus on business sciences (10-13).
Accommodation in boarding home
Twin rooms, single rooms for senior students (final school year)
Special features
Students below Year 10 can start in Hohenwehrda and change to Bieberstein afterwards.
№ of students
№ of boarders
100
Class size
Group size
Dates
Starting dates:
31.07.2022
04.09.2022
09.10.2022
Fees
Secondary Education Prep Year
32,000 € (40 weeks)
36,000 € (45 weeks)
40,000 € (50 weeks)
For the program phases at Schloss Bieberstein
Enrollment fee: 1,000 €
Down payment for expenses: 2,500 €
Included are
Course instruction and materials, full room and board, 24-hour support, extracurricular program, excursions, transportation between Bad Schussenried and Schloss Bieberstein.
Contact
Karin Hartmann
Assistant to the Academic Director
+49 7522 9880
info@humboldt-institut.org
If you have any questions:
For further information and answers please see our FAQ.
Please contact us for your personal offer.